Best Healthy Food Swaps
July 13, 2023
Are you looking to eat a little healthier? One of the best ways to introduce more nutritious snacks and meals into your day is to swap out less fulfilling dishes for something more nourishing.
Whether you're working on a lifestyle change or trying to find better ways to fuel your body, these easy food swaps can help!
We're sharing a few ideas and the top health benefits of some of our favorite healthy food options, so keep reading for more.
Swap Air-Popped for Oil-Popped Popcorn
Popcorn is a tasty and convenient snack with endless options for serving. The corn itself has plenty of nutrients, including:
Potassium
Iron
Zinc
Magnesium
Protein
Instead of opting for air-popped popcorn, consider introducing some oil to your popping routine. You can use oils with healthy fats in them to boost the nutritional value and enhance the flavors of this movie night snack. Some popular healthy oil options include:
Extra virgin olive oil
Walnut oil
Avocado oil
Canola oil
As you prepare to pop the kernels on the stovetop, you'll add enough healthy oil to cover the entire bottom of the pan. The oil can help the popcorn get especially crispy and crunchy, too!
Once it's done popping, finish the dish by adding your favorite toppings. Go for something sweet like cinnamon or simple like sea salt.
Swap White Bread for Whole Wheat Wraps
While white bread can be delicious, you may be interested in swapping it out for something with greater nutritional value. Whole grain options, such as whole wheat bread and wraps, can make for awesome alternatives.
When you choose bread that's made with whole grains instead of refined grains, you can feel good knowing you are getting all kinds of important nutrients, such as:
Vitamin A
Vitamin E
Thiamin
Riboflavin
Niacin
Magnesium
Folate
Iron
Phosphorus
Eating whole grains can benefit your health in many ways, including:
Lowering bad cholesterol.
Increasing good cholesterol.
Reducing blood pressure.
Lowering insulin levels.
At Salata Salad Kitchen, you can customize a whole wheat tortilla and fill it with your favorite healthy ingredients. With over 50 fresh topping options, you can enjoy a personalized meal that's satisfying and delicious.
Swap Ice Cream for Yogurt
If you want to make some healthy swaps for less-fulfilling food, consider switching out a bowl of ice cream for a delicious bowl of yogurt. You'll still get to enjoy the creamy texture and sweet taste, now with additional nutrients and health benefits.
It's no secret that yogurt, especially plain and unsweetened Greek yogurt, is really good for you. Natural yogurt has a high protein content and contains live bacteria that promote good digestive health. It can also help reduce inflammation in the body and boost your immune system.
Add a sprinkle of any combo of the following toppings to enhance your yogurt-eating experience:
Granola
Cacao nibs
Fruit
Almond butter
Nuts
Seeds
Honey
Coconut flakes
Yogurt is a nutrient-rich snack to reach for when you want a midday sweet pick-me-up!
Swap Soda for Iced Tea or Lemonade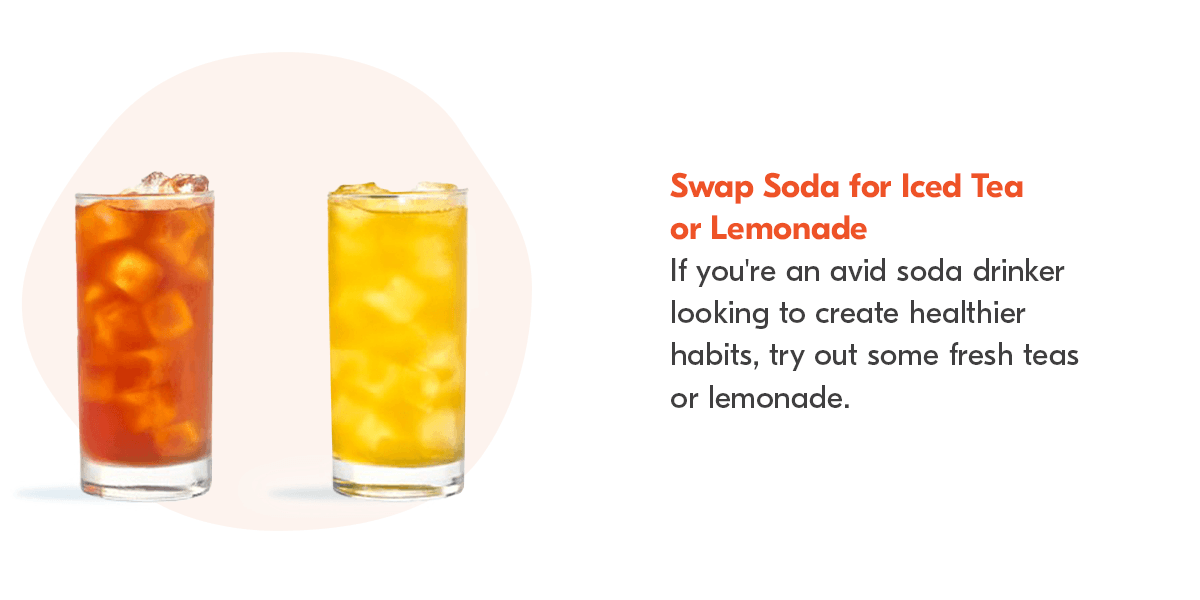 When looking for healthy food swaps, don't forget about drinks. If you're an avid soda drinker looking to create healthier habits, try out some fresh teas or lemonade.
Green tea can be highly beneficial for your health. It has a high antioxidant content and contains L-theanine, an amino acid that can have calming effects on the brain. Green tea is also known for reducing the risk of the following conditions:
Depression
Diabetes
Stroke
Black tea shares many of these benefits. It also contains flavonoids, a group of antioxidants that are good for your heart. Black tea may also lower blood pressure and blood sugar levels.
If you would rather have a refreshing glass of lemonade or limeade, you are also in luck! Fresh citrus has many beneficial nutrients and properties, including:
Vitamin C
Dietary fiber
Flavonoids
Anyone missing the carbonation from a soda can add a splash of seltzer water to their lemonade to get that satisfying fizziness.
If you are looking for a tasty drink that will make you feel good, you can find deliciously healthy signature teas, lemonades and limeades from Salata.
Swap Ranch Dressing for Lemon Vinaigrette
Another healthy swap to consider is switching out ranch dressing for a vinaigrette. Both are tasty additions to a salad, but a vinaigrette like Salata's Lemon Vinaigrette is a healthier option that's just as delicious.
Lemon vinaigrettes are refreshing and light. Our Lemon Vinaigrette is our simplest dressing option and includes only the following ingredients:
Fresh oregano
Fresh-squeezed lemon juice
A touch of garlic
Olive oil
Lemons are high in vitamin C and antioxidants, and regularly consuming olive oil may lower heart disease risk, making both a beneficial addition to your diet.
Swap Noodles for Soups
Swapping out noodles for a warm and hearty soup is another healthy change you can make from time to time. Soups can be prepared in different ways to enhance their nutritional value.
Some of the best and healthiest soup ingredients include:
Broth: Bone, vegetable and meat broth all have nourishing properties. Adding these to your soup can enhance its flavor and give your meal some extra vitamins and minerals.
Vegetables: Soup is a great way to get closer to your recommended daily vegetable intake.
Lentils: Adding lentils to your soup can be beneficial since they are proven to lower blood pressure and bad cholesterol.
At Salata, you can find tasty soup options, including broccoli and tomato basil, which are yummy healthy meal options.
Swap Your Lunch Sandwiches for Salads
You can also switch your typical lunch sandwich for a nourishing salad. Salad greens have so many nutrients, including:
Vitamin A
Vitamin K
Antioxidants
Creating a healthy and robust salad is easy. You can easily add protein, grains and healthy dressing to enhance your salad's taste and benefits.
Salata makes building your dream salad simple. We have tons of options, and you can customize ingredients and toppings to make your salad deliciously your own. Make your own fulfilling combo using ingredients from the following categories:
Lettuces
Dressing
Fruits
Vegetables
Cheese
Nuts
Protein
Find a Salata Location Near You Today
At Salata, we understand that you want healthy, honest ingredients and convenient meals. That's why we are your kitchen away from home.
You can have fun customizing your salad or wrap with over 50 fresh toppings and a wide selection of signature dressings. We have delicious organic teas and lemonades to pair with your personalized meal, and you can elevate your order with our soups and extras.
Feeling hungry? Find a Salata location near you, and order your next meal today!