Easy, Healthy Meal Prep Ideas for Busy Schedules
July 13, 2023
Nutrition can take a back seat when our lives get busy. From managing hectic work schedules to helping kids with their homework or completing household chores, it can seem impossible to find an extra few minutes for yourself, let alone enough to cook a well-balanced meal. Maybe you've created a habit of grabbing a protein bar from the pantry in the morning or relying on free snacks in the break room to stave off hunger.
Mindless eating can make it difficult for your brain and body to perform at their best. However, meal prepping offers hope! When you prep healthy meals ahead of time, you can fuel your body with the nutrients it needs without breaking the bank or sacrificing too much free time. These easy healthy meal prep ideas can help you prioritize your overall wellness while keeping up with your daily life.
The Benefits of Meal Prepping
You might see meal prepping as another food trend, which may not tempt you to try it out yourself. However, meal prepping helps people meet a variety of lifestyle goals. Check out the top advantages of meal prepping:
Saves time: Have you ever spent longer choosing a meal than it would actually take you to cook something well-balanced? With meal prepping, save time by setting aside one day each week to prep all your meals.
Saves money: We all love to indulge in using food delivery apps or a nice restaurant meal, but eating out every day may not be realistic. With meal prepping, you only buy the ingredients you need. You can save on groceries and eat at home more, which can help you spend less eating out.
Reduces waste: How many of us buy produce thinking we'll make a healthy meal and then forget it's in our fridge until it goes bad? Meal prepping helps you avoid food waste by ensuring you use all the ingredients you buy.
Creates a better relationship with food: When you meal prep and eat more intentionally, you learn to appreciate food for providing energy and nutrients. Meal prepping can help you eliminate impulsive food choices, such as late-night junk food binges. It can also help reduce the stress you might feel when you can't decide what to eat or have little time.
Healthy Breakfast Meal Prep Ideas
As they say, breakfast is the most important meal of the day. Though it can be tempting to skip homemade breakfast for a drive-thru coffee, consider these breakfast meal prep ideas. You can substitute or remove any of these ingredients according to your preference and dietary needs.
1. Egg and Sausage McMuffin
For a delicious and easy egg and sausage breakfast sandwich, you'll need:
Sausage patties
Cheese of your choice
English muffins
Start by cooking a large batch of sausage patties, depending on how many you want to put on the sandwich and how many you'll eat per day. Then, cook your eggs in the way you like. Pre-slice your English muffins so they're ready to go, and assemble the sandwiches with the sausage and egg. Add cheese, and wrap each sandwich individually before placing them in the freezer. Each morning, take out an egg sandwich and microwave them so they're hot and fresh!
2. Healthy Fruit and Yogurt Parfaits
Fruit and yogurt parfaits are great if you prefer something sweet in the morning. You'll need:
Plain Greek yogurt
Granola
Fruit, such as mango, banana, raspberries or blueberries
You can use store-bought granola for convenience or make your own by combining old-fashioned rolled oats, raw nuts, dried fruit, sea salt, cinnamon, honey or maple syrup, and any additional mix-ins of your choice. Bake the granola at 350 degrees for about 20 minutes, stirring halfway through, and let it cool completely.
Assemble your toppings and choose small mason jars or something similar for your containers. Layer some plain yogurt at the bottom, add the granola and top with your favorite fruit. Keep them in the fridge and grab them in the mornings when you're ready for a simple breakfast!
Quick and Healthy Meal Prep Lunch Ideas
At lunchtime, you may lose energy or focus on tasks you can complete on your break instead of prioritizing your body's needs. Here are some easy healthy meal prep ideas for lunch:
1. Honey Sesame Chicken Lunch Bowls
These honey sesame chicken bowls are perfect for getting a healthy mix of veggies, proteins, carbs and fats in one meal. You can substitute or remove the chicken if needed. Here are the ingredients you'll need:
Boneless skinless chicken breast
Rice of choice
Broccoli, snap peas or veggies of choices
Sesame seeds for garnish
For the sauce:
Honey
Reduced-sodium soy sauce
Chicken stock
Sesame oil
Red pepper flakes
Cornstarch
For this quick and healthy meal prep, start by combining all sauce ingredients, and set aside. Then, cook your rice according to the package instructions. Heat a large pan on the stove and cook your veggies to your liking, then remove them and cook your chicken breasts.
Add your sauce mixture to the chicken pan and simmer until it becomes thickened by the cornstarch. Be sure to coat your chicken in the sauce. Finally, grab your meal prep containers and divide the chicken, rice and veggies into each. Keep in the fridge and reheat to serve.
2. Bento Lunch Boxes
Lunchtime tends to be hectic, and you may not always be in the mood for a heavy meal. Bento lunch boxes are a lighter alternative if you're in a snacking mood but still want to gain all the vitamins and nutrients you need to feel energized. Plus, you can customize it however you want. You can also add a yummy dressing to accompany the veggies in your bento box.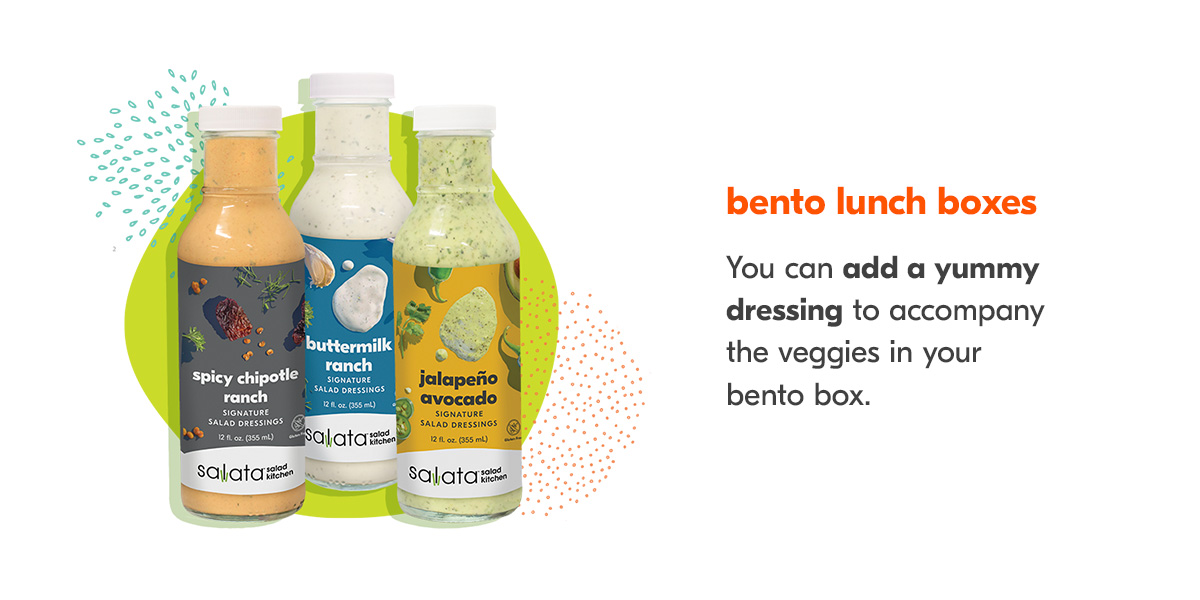 For a turkey and hummus bento box, you'll need:
Deli turkey slices
Fresh mixed veggies, such as carrots, cherry tomatoes, cucumber and celery
Hummus
Cheese slices or sticks
For a charcuterie-style bento box, you'll need:
Sliced salami, ham or kielbasa
Cheddar or mozzarella cheese
Crackers
Fruit of choice, such as strawberries, apples, raspberries or blackberries
Ideas for Healthy Dinner Meal Prep
When it's time for dinner, you're likely exhausted from the long day and want nothing more than to relax with your favorite TV show. Instead of ordering out, consider prepping one of these delicious meals to have on hand.
1. Butter Chicken With Rice and Garlic Naan
If you're ordering from your favorite local Indian restaurant several times a week, try out this meal prep butter chicken recipe to help you save time and money.
You'll need the following ingredients to make your naan bread and chicken:
Olive oil
Onion
Fresh ginger
Garlic cloves
Chicken breasts
Tomato paste
Garam masala
Fenugreek or mustard seeds
Cumin
Chili powder or paprika
Salt and pepper
Heavy cream or plain greek yogurt
Jasmine or basmati rice
Water
Pizza dough
Cilantro
Butter
First, begin by cooking down some onions in olive oil in a large pan. Add ginger and garlic and stir continuously. After a few minutes, add the chicken breast and tomato paste. When everything is cooked through, add your spices and the heavy cream or yogurt and stir for another 10 minutes. Cook your rice in a separate saucepan and set aside. To make your naan, combine the butter, garlic and cilantro in a bowl.
Divide your pizza dough into eight equal parts and roll them into small circles with a rolling pin. Using a cast-iron skillet, grease your pan with oil and cook your dough. Wait until it puffs and bubbles up, flip it over and spread it with your garlic and butter mixture. Finally, assemble your butter chicken, rice and naan in separate containers. Reheat to serve.
2. Ground Turkey Stir-Fry
If you're trying to get more vegetables in your diet, stir-fry is the way to go. Here's what you need for a healthy, delicious ground turkey stir-fry meal prep.
Olive oil
Ground turkey
Yellow and green onion
Carrots
Red pepper
Cabbage
Seasonings of choice
For the sauce:
Low-sodium soy sauce
Honey
Garlic
Sriracha
Ginger
Start by heating up the oil in a pan. Next, add your ground turkey and season to your liking. Add in your veggies and cook until they're soft. Then, combine the ingredients for the sauce in a separate bowl and pour over the ground turkey and veggies. Stir and simmer for a few minutes until the sauce thickens and coats the meat. Finally, place an equal amount of the stir-fry into containers and store them in the fridge.
Too Busy to Prep? Order Salata Salad Kitchen
These meal prep recipes are delicious and cost-efficient, but sometimes you just don't have the means to prep your food every single week. Or, you might love your prepped food so much that you eat it for lunch and dinner and run out of meals early in the week. In any case, Salata has you covered. We value nutrition, but we know it can be hard to prioritize your meals with your busy schedule.
That's why we offer fresh ingredients in our salads and wraps so you can grab a quick, convenient meal on your lunch break or on your way home from a hectic day. You can customize your salad to suit your taste buds with our large variety of vegetables and toppings.
At Salata, we prepare our food fresh every morning to ensure you get a delicious and nutrient-filled meal when you need it. Order online for pickup today, or browse our menu to see how we can make healthy eating more accessible for you.