Five Nutrition Tips for New Moms Going Back to Work
July 13, 2023
Becoming a new mom is an exciting time of changes to your lifestyle, work schedule and growing family. If you're thinking about returning to work after having a baby, you may be looking for ideas for nutritious snacks and healthy meal options to make your day a bit easier.
As a new mom, it's so important to keep in mind that you're doing your best during this transition. While nutrition may not always be your first priority on a daily basis, it can often be easier than you think to create delicious and healthy food options that help your body adjust to your new schedule.
Check out the following health tips for new moms to make meal prep quick and easy while providing your body with the nutrition it needs for the day. These five simple nutrition tips for both breastfeeding and non-breastfeeding moms can help you find some healthy snack and ingredient options.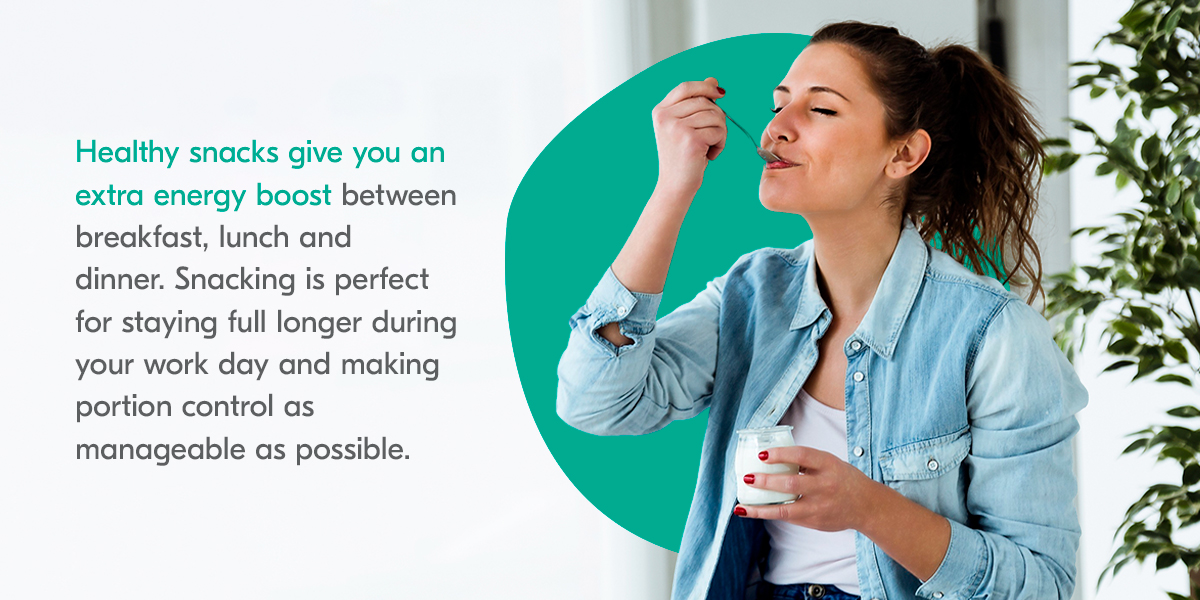 1. Find Healthy Grab-and-Go Snacks You Enjoy
Packing a few to-go snacks to bring with you to work each day makes your daily routine that little bit easier. You can easily pull a quick snack out of your lunch bag to eat between meetings or while you get tasks done throughout the day.
Cravings after giving birth are completely normal, and grab-and-go snacks are perfect for satisfying these short boosts of food hankerings. Whether you're on your feet all day or sitting in the office, you can quickly grab a small snack to keep you replenished during your shift until your next meal.
Healthy snacks give you an extra energy boost between breakfast, lunch and dinner. For a typical eight-hour work day, you might only have 30 minutes to an hour to eat lunch. During the other seven or more hours, a good rule of thumb is to try to eat one to three snacks to replenish your body's energy.
Snacking is perfect for staying full longer during your work day and making portion control manageable. Your body needs as many nutrients as possible for both you and your baby, so eating the right portions each day is a great goal to aim for. Luckily, healthy snacks make portion control a bit easier so you can feel more energized at work.
A few healthy grab-and-go snacks that provide nutrition for new moms include:
Vegetables and ranch
Fruit cups with sweet fruits such as peaches, mandarin oranges and pineapple provide fiber for your body
Nuts and seeds like sunflower seeds and almonds pack a lot of protein in tiny snacks
Greek yogurt
Granola or protein bars
Protein shakes
Hardboiled eggs
String cheese
Rice cakes
Whole fruits such as bananas, apples and oranges
2. Make Breakfast a Priority
Breakfast is the most important meal of the day — it sounds cliché, but it's true! Breakfast replenishes your body and brain after sleeping so you can be as prepared as possible to tackle the day ahead. You will notice higher energy and brain fuel from breakfast foods that come from calcium, fiber, vitamin B and folate.
Even though breakfast is the most important meal of the day, it's often the most skipped meal. Early morning cooking sessions can be nearly impossible when taking care of your baby at the same time.
Especially as a new mother, it's a good idea to prioritize breakfast as much as possible to keep your body strong, energized and prepared for the day. Whether you prep the night before or make something quick in the morning, there are many tasty and healthy breakfast options, including:
Waffles with almond butter and fruit
Oatmeal topped with bananas, berries, nuts or even chocolate chips
Yogurt parfaits
Avocado toast
Cereal — preferably ones with high fiber, low sugar and whole grain
Greek yogurt with frozen blueberries and a granola bar
Veggie and egg quiche
Muffins
Oat pancakes
The fun part of experimenting with breakfast foods is seeing which ingredients and meal options give you the most energy and lift your spirits before walking into work. You can choose a different option every day and note the benefits that these nutrients give to your body.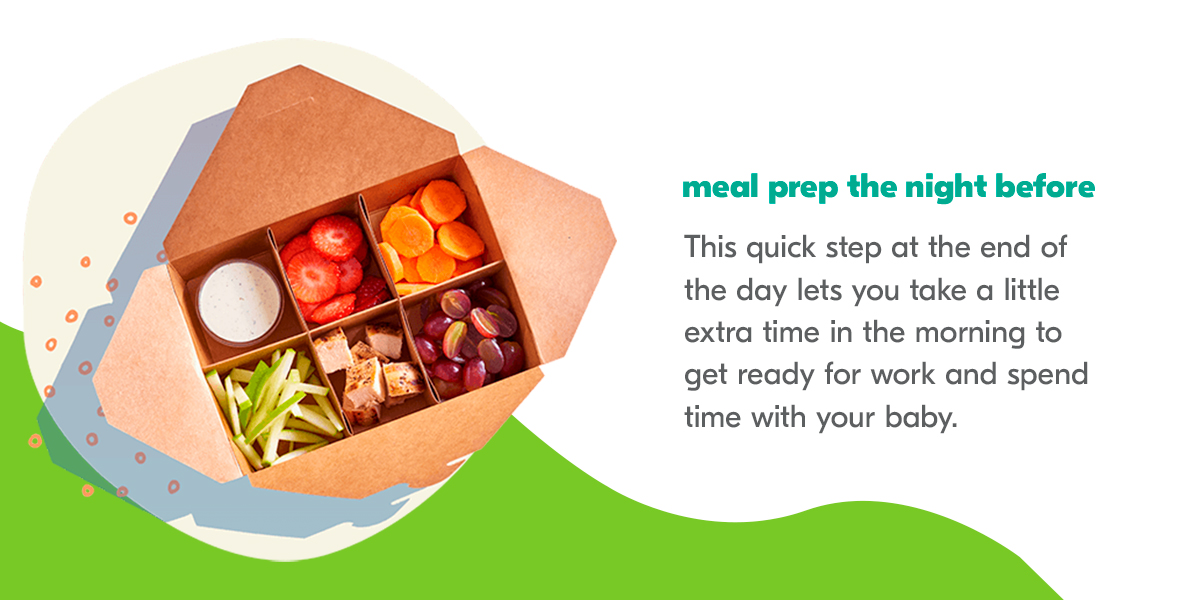 3. Meal Prep the Night Before
Start your day off on the right foot by packing snacks and a meal the night before. This quick step at the end of the day lets you take a little extra time in the morning to get ready for work and spend time with your baby. After you put your baby to bed for the night, you can spend a few minutes making breakfast, lunch, dinner or snacks. That way, you won't feel like you're rushing as much in the morning.
Meal and snack prep are also great for eating the right portions each day. We suggest planning and cooking the following day's meals after you eat dinner. Feeling full after a good meal makes it easier to make health-conscious choices. When you make food in the morning before going to work, you might accidentally pack more snack foods or ingredients that decrease your energy levels or make you feel lethargic.
Try packing one or two grab-and-go snacks, four to five servings of vegetables, a source of lean protein and a fiber-rich carbohydrate option. These nutrients will give your body that much-needed focus and energy.
Between taking care of yourself and your baby while getting lots of rest, free time can feel like a thing of the past. To give yourself a head start on the week ahead so you can relax after work, you might try spending a little extra time on the weekend preparing lunches and snacks for the week.
You can try this routine to give yourself time to relax after getting off work during the weekdays. While it may require more time upfront, this routine will give you more free time to spend with your baby after clocking out.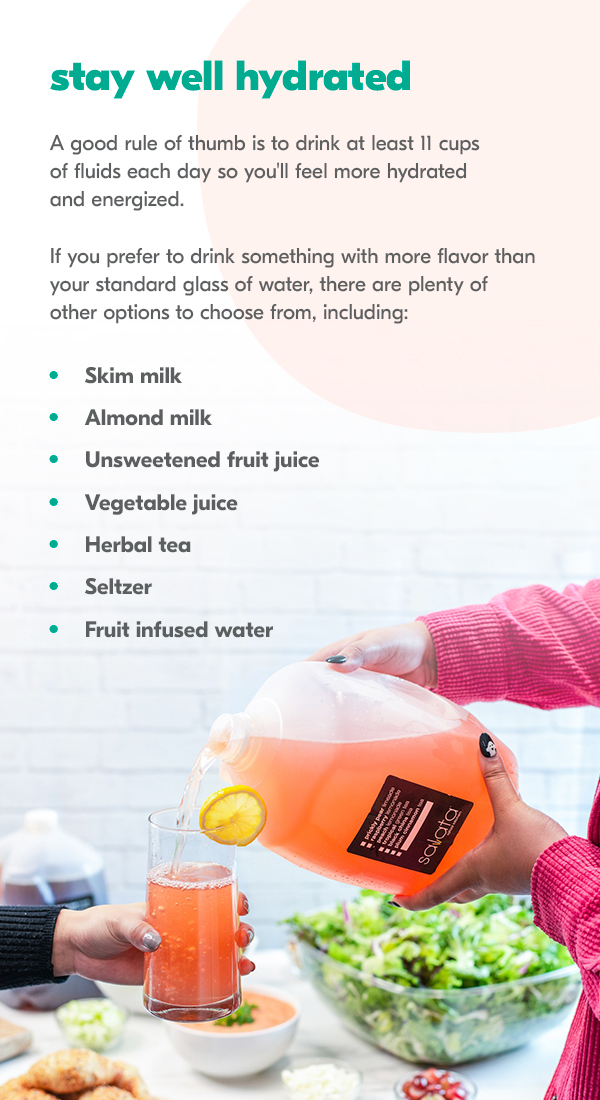 4. Stay Well Hydrated
Water and other fluids give you the hydration you need to function throughout the day. Water also energizes your body so you can feel more alert in the mornings, during your shift and settling into your mom duties when you get home.
A good rule of thumb is to drink at least 11 cups of fluids each day for hydration and energy.
If you are a breastfeeding mom, you may notice that you become more thirsty than when you were pregnant. When you feel like you need to drink more water during the day, try to have 14 cups instead.
If you prefer to drink fluids with more flavor than your standard glass of water, there are plenty of other options to choose from, including:
Skim milk
Almond milk
Unsweetened fruit juice
Vegetable juice
Herbal tea
Seltzer
Fruit infused water
After pregnancy, it is easy to feel hungrier more often. This feeling may actually be your body telling you that you are thirsty and need more hydration. If you feel like you need to snack more during the day after you eat your packed grab-and-go snacks, try having a glass of water.
Staying hydrated as a new mom is important for your health as well as the nutrition in your breast milk.
5. Avoid Fad Diets
Your body has gone through something extraordinary, and you deserve to treat it kindly with healthy, delicious ingredients.
Many fad diets suggest eating fewer calories and avoiding certain nutrients. It is important to reward yourself with the right nutrients and portions to produce breast milk for your baby and help heal your body.
As you get to know more healthy eating habits that fit with your lifestyle, remember that you are making healthy choices for yourself, your body and your newborn. Self-love goes a long way when you're adapting to new situations at work and at home.
Calorie Counting
It's important to be kind to yourself when returning to work for the first time after having a baby. Calorie counting can sometimes help people lose weight with a proper exercise routine, but as a new mom it's better to focus on the type of food you eat instead of the calories.
The amount of calories you eat each day impacts the quality of your breast milk. Treat your body with love and support by focusing on eating three healthy meals a day with one to three snacks, not worrying about how many calories you've eaten so far.
You do not have to limit your food intake unless you feel incredibly full after a meal or feel nauseous after eating. In this case, you might try packing one or two snacks for work instead of three and reduce your portion sizes if needed. Try out different food options to help you feel comfortably full after eating and see what gives you energy so you can find the right food combinations and portions.
Intermittent Fasting
Unless you're practicing for religious purposes, you should try to avoid intermittent fasting or diets that encourage long periods without eating. Some diets implement intermittent fasting, where you would only eat for five to eight hours a day.
After having a baby, it's important that new moms try to eat three meals and a couple snacks each day. Eating gives your body nutrients and helps create quality breast milk for your baby if you are breastfeeding.
See if you can eat breakfast at the beginning of the day, eat lunch in the middle of your shift, eat dinner at a relaxing time in the evening and snack in between each meal when you feel hungry. The most essential thing is to listen to your physical health. Your body lets you know when you are hungry, thirsty or in need of some well-deserved rest.
Additional Considerations for Breastfeeding Moms
New mothers can breastfeed anywhere from seven to ten times a day. Your body is amazingly giving protein, carbs and water to your baby so they can have all the right nutrients to grow at a healthy rate.
While you provide for your baby, remember to give your body the nutrients it needs to heal and adapt to the new norms of mom life. If you start meal prepping in the evening, try to use ingredients from all the food groups to get as many nutrients as possible in your daily calorie intake.
The best nutrition for breastfeeding moms includes:
Vegetables: Maintaining your blood pressure and lowering the risk of infection by consuming high fiber, vitamins A and C, potassium and folate is easier with vegetables. Try including two to three servings of yellow and green vegetables into your meals each day.
Fruits: Whole or sliced fruits offer vitamin C, fiber, folate and potassium that help lower blood pressure and cholesterol. Oranges and other citrus fruits are great for nutrition while breastfeeding. Consuming at least two cups of fruit each day can be made even easier with smoothies and salads.
Whole grain: Your body can benefit from delicious foods such as pasta, bread, cereal and oatmeal with whole grain ingredients. These options give the body several B vitamins, fiber, carbohydrates and iron minerals.
Protein: Fish, nuts, eggs, beans and dairy are rich in protein that strengthens muscle and bones. Adding these ingredients to your meals can supply B vitamins, vitamin E, iron and zinc.
Dairy: Low-fat and fat-free dairy options such as milk and yogurt are great for strengthening your bones and maintaining blood pressure. Aim for four servings of dairy each day to provide your body with calcium, vitamin A and D, potassium and magnesium. You can also try to add 1000mg of calcium to your diet daily to replenish the body after breastfeeding.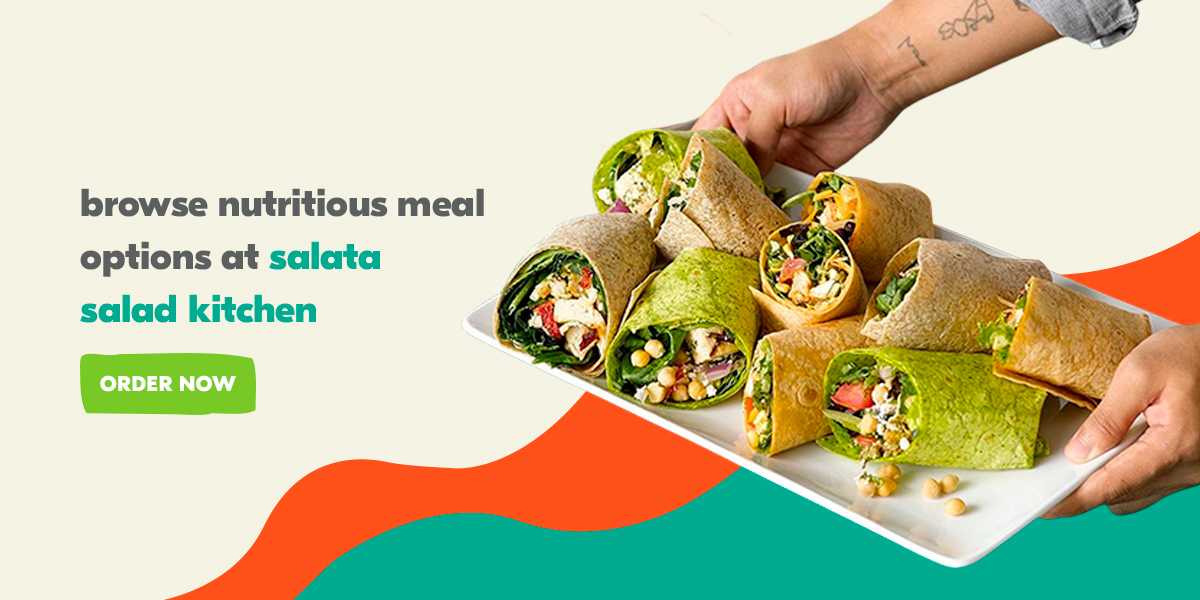 Browse Nutritious Meal Options at Salata Salad Kitchen
Looking for healthy menu options that fit into your schedule and lifestyle? Salata can help you create delicious meals for your work and home life. Our one-of-a-kind salad kitchen menu allows you to pick your favorite base, toppings, dressings and flavorful additions to make each meal unique to your preferences.
Our nutrition builder tool calculates the calories, sugar, carbs, fats and protein in your custom salad so you can build your own creation to satisfy your taste buds. With a wide selection of healthy ingredients, you can feel confident knowing you're getting the portions and nutrients your body needs to adapt to all of life's changes.
Our easy-to-use mobile app makes online ordering quick and easy for moms on a tight schedule. Start your order at your nearest Salata location, or have your meals delivered right to your door.